Long-term services and supports
---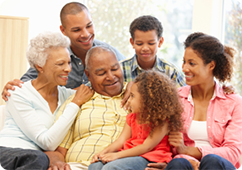 Long-term services and supports aren't just for seniors. And they are not only provided at a licensed facility. Long-term services and supports can also be provided in your home or the community.

Knowing the basics of long-term services and supports will help protect your future. Finding the right fit for you can expand your independence and options.
Understanding the types of services
Your needs for long-term services and supports will often change over time. For example, early on you may need help once in awhile for a few activities of daily living. You may choose to get that help in your own home. Over time, you may need more regular help and choose to live in a licensed facility or other long-term care setting. Whatever your needs, more and more options are available for care in homes, communities and facilities.


Community-based services
Adult day service programs provide a variety of health, social and other support services in a safe setting. This is usually during normal business hours.
Meal programs provide meals in group settings.
Senior centers provide many social and educational services.
Transportation services help get people to and from medical appointments, shopping centers and other places.
Chronic disease self-management programs help people learn to better manage ongoing health conditions. Examples are diabetes, heart disease, depression, fibromyalgia and arthritis. These programs can also help you prevent falls and take control of your health and life.
Home-based services
Home health care often includes skilled, short-term services such as nursing or physical therapy. A doctor must order them for a specific condition.
Personal care services provide help with basic activities such as bathing and dressing.
Homemaker and chore services include activities like meal preparation and routine household chores. These are sometimes called personal care services.
Home-delivered meals for qualified individuals.
Facility-based services
Adult foster/care homes are licensed single-family settings with care for up to five people. Adult foster home settings serve a range of needs in a home setting.
Assisted living and residential care facilities are licensed settings providing housing and care services to six or more people. A registered nurse is on staff or under contract. The nurse does not have to be there all the time. Caregivers do not need to be certified, but they are trained in providing care services.
Nursing facilities give licensed 24-hour supervised nursing care. Licensed nursing facilities' caregivers must be certified as nursing assistants; the State Board of Nursing must approve their training. Nurses and certified nurse aides provide personal, therapeutic and nutritional care.
Memory care communities are secure environments where staff care for people with dementia who have needs that require a more secure setting. Each setting is licensed by the state as a residential care, assisted living or nursing facility. The state also requires memory care facilities to train staff to care for residents with dementia and provide specialized services.
Other resources and supports
Alzheimer's disease and other forms of dementia affect people in different ways. However, all involve memory loss, challenges in planning or solving problems, and difficulty in completing familiar tasks. Services for those touched by dementia include learning about the disease, help in the home and support for family caregivers. Many community services can often be helpful for people to stay safe and as independent as possible.
Caregiver support programs help those who provide support to a family member or friend. Services include education, community support groups and in-home help. Respite services give caregivers a break from their role.
Legal assistance can be critical to planning for and solving problems with long-term services and supports. Oregon private and Legal Aid attorneys can help you establish your legal rights, interests and care choices. Lawyers can also address care-related problems; examples are helping someone whose public benefits have been denied or who has landlord or utility issues.
Preventing elder abuse includes keeping it from happening in the first place. It also means keeping it from continuing. Immediately contact Adult Protective Services or law enforcement if you suspect elder abuse.

Connect with your local ADRC.
ADRC of Oregon staff are available to help you explore your options to meet your current needs or create a plan for the future.
Connect now