Alzheimer's disease and related dementias
---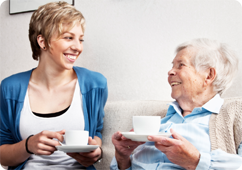 Alzheimer's is a type of dementia that causes problems with memory, thinking and behavior. Symptoms usually develop slowly and get worse over time. In time, they hinder daily tasks.
Alzheimer's is the most common form of dementia, and it accounts for 50 to 80 percent of cases of dementia. Dementia is a general term for a decline in mental ability severe enough to interfere with a person's daily life. Other forms of dementia include vascular dementia, Lewy body dementia, Pick's disease and Parkinson's disease. This information focuses on Alzheimer's disease, the most common type of dementia. This information can apply to any form of dementia, however.
Learn more about Alzheimer's disease and other types of dementia
Alzheimer's is not a normal part of aging. But the greatest known risk factor is age. Most people with Alzheimer's are 65 and older. But up to 5 percent of people with the disease have younger-onset Alzheimer's. Younger-onset often appears between age 40 and 60.
Learn more about younger-onset Alzheimer's
Alzheimer's worsens over time. Memory loss is mild in the early stages. In the late stage, individuals cannot carry on a conversation or respond. Alzheimer's is the sixth-leading cause of death in the United States. Those with Alzheimer's live an average of eight years after symptoms begin. Survival can range from four to 20 years.
Learn about the 10 signs of Alzheimer's
Alzheimer's has no current cure. But treatments can help, and research continues. Current Alzheimer's treatments cannot stop the disease from getting worse. But they can slow dementia's symptoms for a while and improve quality of life for both those with Alzheimer's and their caregivers. Researchers around the world are now seeking better ways to treat the disease, delay its onset and prevent it.
Links to Oregon Alzheimer's resources
Alzheimer's Association Oregon Chapter
1-800-272-3900 (24/7 helpline)
The Alzheimer's Association Oregon Chapter educates and supports people when they are diagnosed. It also supports their families and caregivers. The Oregon Chapter has offices in Portland, Bend, Medford and Eugene. The chapter provides: Information and resources; A 24/7 telephone help line; Local support groups and education; An annual caregiver conference; A nationwide identification program, MedicAlert + Safe Return, for people who may wander and get lost.
OHSU Layton Aging and Alzheimer's Disease Center
503-494-6976
Part of the Oregon Brain Institute at Oregon Health & Science University, this is a research, clinical care and education center for people with Alzheimer's disease or another dementia. It is one of 31 National Institutes of Health (NIH) Alzheimer's disease centers, and the only one in Oregon. Layton Center clinicians provide diagnosis and care, and the Center regularly recruits volunteers, including caregivers, interested in participating in research studies and clinical trials.